Experience the Outdoors Indoors with Our Spectacular Glass Juliet Balcony Installations
Crafted to Perfection – Our Juliet Balcony Railings Seamlessly Merge Safety, Style and Sophistication. Experience a Fusion of Exquisite Design and Uncompromising Quality.
There's a certain romantic allure associated with a Juliet balcony.
Named after the iconic Shakespearean character, these architectural features conjure an image of elegant design and open-air serenity.
At Sussex Balustrade Solutions, we aim to bring this romance and elegance to your home with our stunning glass Juliet balconies.
Imagine standing at the precipice of an exquisitely designed glass balcony, feeling the cool morning air and gazing out on an unobstructed view. This experience is now within your reach.
We blend the strength and durability of expertly crafted Juliet balcony railings with the sleek, contemporary appeal of high-quality glass.
Our products don't just enhance the aesthetics of your building; they open up a world of mesmerising vistas without compromising on safety or style.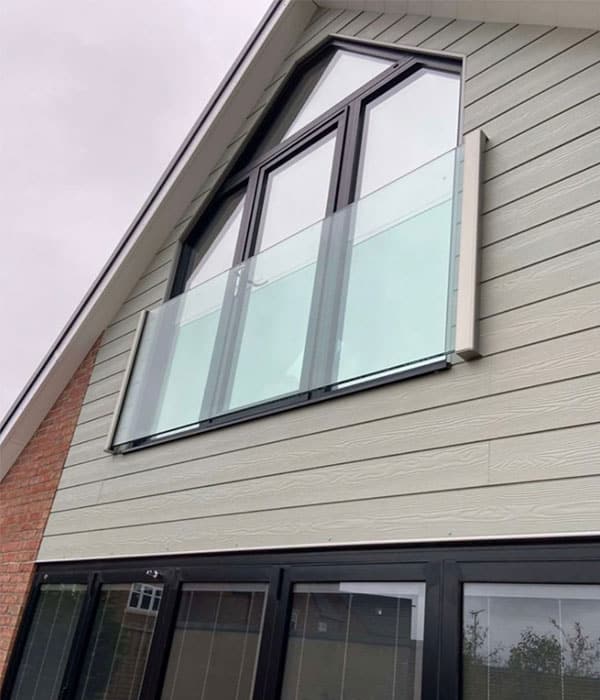 A Juliet balcony is more than just a design feature; it's a lifestyle choice.
Our Juliet balconies promise not only an enhanced curb appeal but also a unique living experience.
They invite abundant natural light into your interiors, creating an illusion of additional space and an unobstructed panoramic view.
Our high-quality Juliet balcony railings offer robust support, complementing the durable glass to withstand weather elements. Designed to require minimal maintenance, these installations add lasting value to your property.
We have completed many projects over the years and have had the privilege of working with some amazing clients. Here is a selection of our most recent work.
If you would like to discuss a project with us, please get in touch.
What Our Customers Say About Us
Our products speak for themselves, and our customers couldn't agree more:
"This is now the 4th time of me using Sussex balustrade solutions. Great service always, on time and work is on point. Will be sure to use it again on my next project."
"Great experience with this company. George was professional throughout and very accommodating with my requests. I would not hesitate to recommend this company"
"Great communication from start to finish. Really happy with the quality of work. Completely professional and always on time. Couldn't ask for more."
At Sussex Balustrade Solutions, we're more than just a glass solutions company; we're a collective of professionals driven by a passion for transforming spaces. Each piece we create, whether a Juliet balcony, a staircase with glass-fitted panels, or a bespoke kitchen splashback, showcases our commitment to fusing timeless elegance with unwavering quality.
As seasoned glass specialists, we bring years of expertise and knowledge to every project, ensuring the highest standard of craftsmanship.
Our diverse range of premium glass products, which includes high-quality glass balustrade systems such as stainless-steel posts and frameless solutions, reflects our deep understanding of the industry and our attention to detail.
Based in West Sussex, we proudly serve the major regions of Sussex and Surrey and the surrounding areas. Our mission is to elevate homes and businesses, one carefully crafted glass piece at a time, by offering aesthetically pleasing and practical solutions tailored to each client's needs.
Whether you come to us with a specific vision or need guidance to explore your options, we're here to help. Our aim is to empower our customers by providing the highest level of proficiency and consultation in choosing the most suitable product for their residential or commercial properties.
At Sussex Balustrade Solutions, we're not just transforming spaces, we're enhancing lifestyles.
Ready to bring the beauty of the outdoors into your home?
Contact us today for a personalised quote on your dream glass Juliet balcony.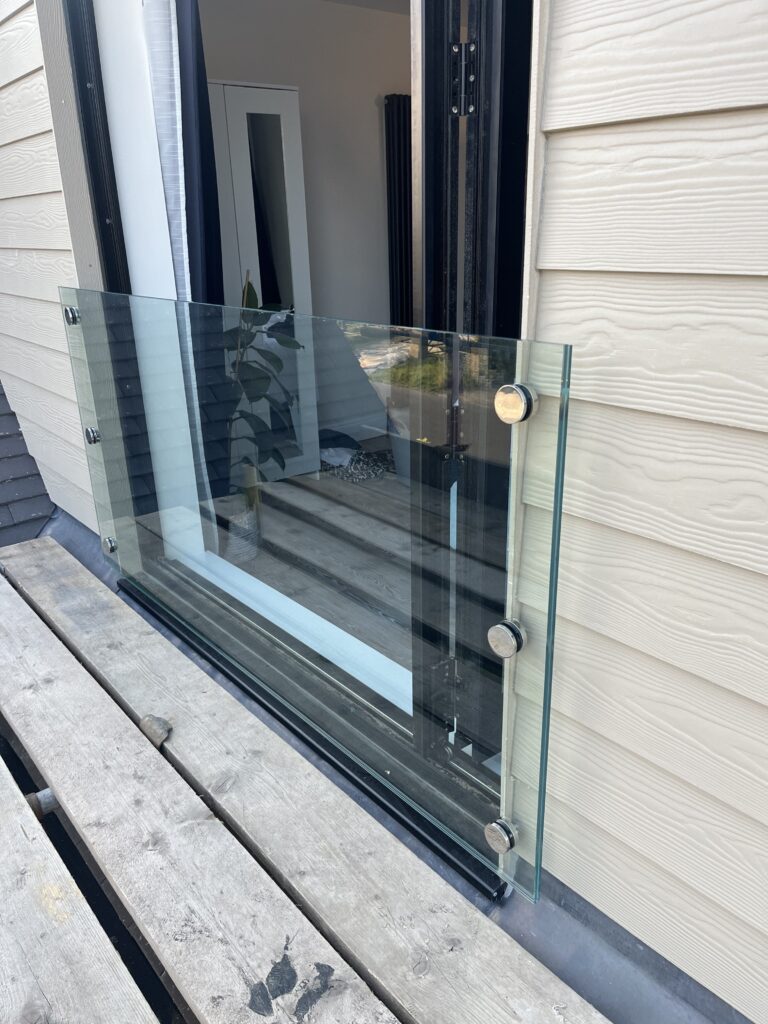 How durable are the Juliet balcony railings?
Our Juliet balcony railings are meticulously crafted using high-grade materials to ensure robust support. These railings are engineered to withstand both time and elements, requiring minimal maintenance for long-term use.
With meticulous construction and stringent quality checks, they stand up to daily use and the harshest weather conditions, ensuring a safe and secure balcony for your enjoyment for years to come.
Is the Juliet balcony glass safe?
Safety is our topmost priority. We use tempered glass for our Juliet balconies, a type of safety glass processed by controlled thermal treatments to increase its strength.
This type of glass is four to five times stronger than standard glass, and, in the rare event of breakage, it shatters into small granular chunks instead of jagged shards. This significantly reduces the risk of injury, thereby ensuring the highest level of safety and durability for your Juliet balcony.
Can a glass Juliet balcony be installed on any type of building?
Yes, our experienced team has the skills and knowledge to install Juliet balconies on various building types, from modern structures to period homes.
We start with a comprehensive assessment of the site to understand its specific requirements and ensure the safety and integrity of the installation.
This analysis informs our installation process, enabling us to customise our approach to suit the unique characteristics of each building.
What kind of maintenance does a Juliet balcony require?
Our Juliet balconies are designed with ease of maintenance in mind. Made from high-grade materials, they require minimal care to keep them in top condition. Regular cleaning to remove any dirt, dust, or stains is generally all it takes to maintain their appearance.
We recommend a gentle glass cleaner for the glass elements and a mild detergent for the railings. By spending a little time on upkeep, you can enjoy a clear, clean balcony view all year round.
How long does the installation process take?
The duration of the installation process can vary based on several factors, including the balcony's size, the design's complexity, and the building structure's specifics. Regardless of these variables, our team is committed to completing the installation as efficiently as possible.
We carefully plan every process stage to minimise disruption while maintaining our unwavering commitment to quality and safety. You'll be kept informed about the progress throughout the process to ensure a seamless and satisfying installation experience.
Why wait to enjoy the enchanting experience a Juliet balcony offers?
Get in touch with Sussex Balustrade Solutions today, and bring your dream balcony to life.
Click here to embark on this exciting journey with us!