Reinvent Your Kitchen with Our Toughened Glass Splashbacks – The Perfect Fusion of Functionality and Aesthetic Excellence
Expertly Crafted Bespoke Kitchen Splashbacks. Discover Our Range of Printed Glass Splashbacks Made to Measure – Designed for Durability, Heat Resistance, and Unparalleled Style.
The kitchen is the heart of a home, and at Sussex Balustrade Solutions, we believe in making this space as practical as it is beautiful. Introducing our range of bespoke kitchen splashbacks – the perfect blend of functionality, style, and durability.
Our toughened glass splashbacks for kitchens not only protect your walls from spills and splatters but also add an element of sophistication to your space.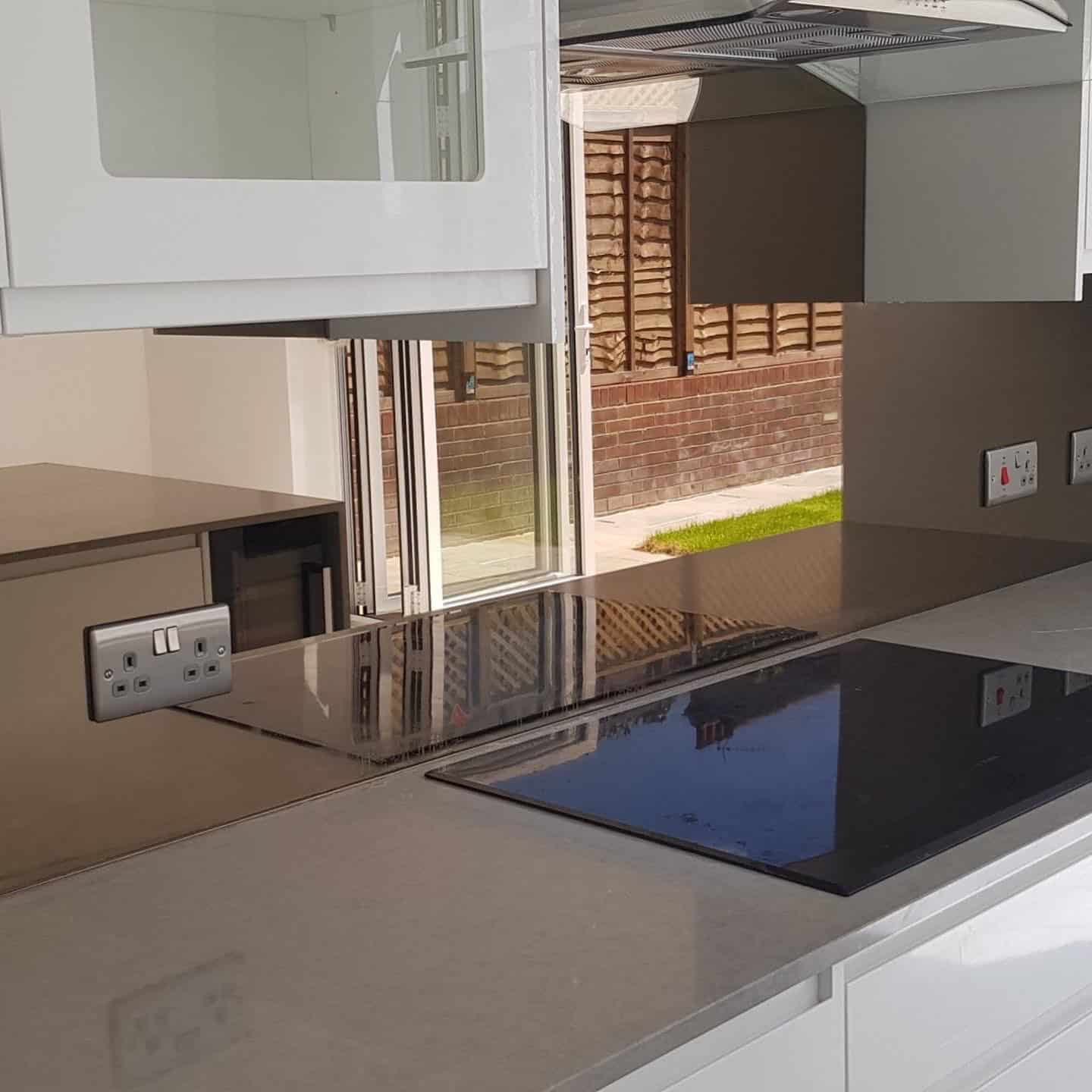 Imagine the elegance of a toughened glass splashback, its glossy surface reflecting the warmth of your kitchen, acting as a practical yet chic feature.
With the added allure of being heat resistant, our glass splashbacks offer a worry-free solution to your cooking escapades.
What's more, we offer an array of printed glass splashbacks made to measure, each piece a testament to our commitment to personalised design and superior craftsmanship. From vibrant, digital glass splashbacks to subtle, monochrome designs, we've got you covered.
Our splashbacks don't just make a style statement; they tell a story – your story.
Our recent projects are showcased in our gallery below. We have completed many projects over the years and have a wealth of experience to show for it. Get in touch with us today to discuss your own project requirements.
How It Works / Our Process
At Sussex Balustrade Solutions, your vision forms the bedrock of our process. We commence by gaining an in-depth understanding of your kitchen layout, style preferences, and functionality requirements.
This initial assessment helps us provide you with various design options that perfectly complement your kitchen.
Once you select a design, we tailor your chosen toughened glass splashback for kitchens of whatever dimensions you may have, ensuring a perfect fit every single time.
Our printed glass splashbacks made to measure promise an exact match to your specifications, enhancing the bespoke feel of your kitchen.
Our seasoned installation team then seamlessly install your new splashback, transforming your kitchen with minimal disruption to your daily routine.
Why Choose a Kitchen Splashback?
Our toughened glass splashbacks for kitchens are more than just an aesthetic feature; they're a promise of durability and effortless maintenance.
Crafted from heat-resistant glass, our splashbacks can withstand high temperatures, making them an ideal fit for any kitchen.
But functionality isn't their only strong suit.
With our digital glass splashbacks, you can showcase your personal style. Choose from various designs and colours to create a feature that's not just bespoke but truly one-of-a-kind.
Aside from the fact we pour our hearts and souls into every project we take on, there are endless reasons why dozens of people choose to work with Sussex Balustrade Solutions for their home and commercial building projects.
Customization At Its Best:

We excel at creating unique solutions tailored to your distinct needs, from one-of-a-kind Juliet balconies to personalised kitchen splashbacks.

Unmatched Quality

: We stand by the superior quality and long-lasting durability of our offerings, crafted from top-tier materials with skilled workmanship.

World-Class Customer Experience

: We're committed to delivering a hassle-free experience from the first point of contact to the final installation, backed by our team's warm professionalism.

Proficient Installation

: Our seasoned installation experts guarantee a flawless fit for all our products with respect to your schedule and your space.

Clear Communication

: We prioritise transparency in all interactions, ensuring every step of our process is understandable and predictable for our clients.

A Plethora of Choices

: Our extensive selection of glass types, design aesthetics, and finishes cater to a wide spectrum of tastes and needs.

Strict Adherence to Safety Standards

: Safety isn't optional for us – all our products meet and often exceed regulatory safety norms.

Green Practices

: Our commitment to the environment reflects in our choice of sustainable materials and our efforts to reduce waste.

Value for Money

: With us, you get high-grade products and top-notch services at a fair price, ensuring a worthwhile investment.

A Name You Can Trust

: Backed by glowing reviews from contented customers, we've built a reputation as a reliable partner in the industry.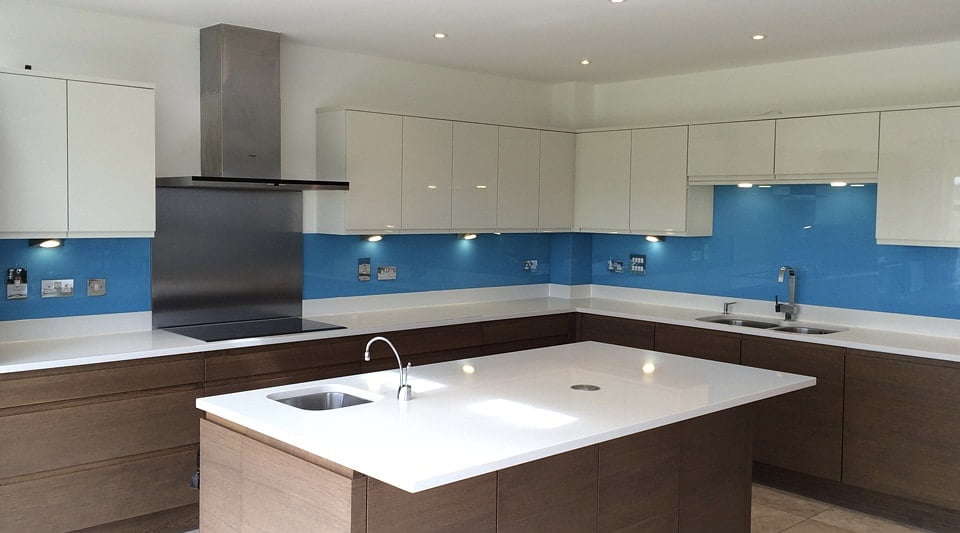 What Our Customers Say About Us
But don't just take our word for it; hear from our happy customers:
"Very professional throughout the project. Competitive on price, good communication, on time and work of a very high standard. Would recommend George and his team highly."
"Very pleased with my kitchen splashback, professional and quick turnaround. Would recommend it and use again."
"Highly recommended, really good prices and really happy with the job which was done."
Join these happy homeowners with a glass splashback that really turns your house into a home you love. Make it your own, increase your property sale value, and ensure your kitchen is a place you love spending time in!
Sussex Balustrade Solutions are seasoned glass specialists passionate about crafting bespoke glass solutions that transform spaces.
Our expertise spans Juliet balconies to custom-made kitchen splashbacks, each product embodying a fusion of elegance and functionality. With years of industry experience, we offer more than just a product; we deliver a seamless experience.
Based in West Sussex, serving Sussex and Surrey, we're ready to help enhance your space.
Reach out for a free quote and begin your journey towards a more stylish, functional kitchen.
How durable are your toughened glass splashback?
Crafted from toughened glass, our splashbacks resist heat, scratches, and impacts. This strength ensures not only a great visual appeal but also long-lasting durability and safety. With these features, you can cook and entertain without worries about damage to the splashback.
Can your printed glass splashbacks be made to fit any kitchen?
Absolutely! We tailor-make our printed glass splashbacks to suit the specific dimensions of your kitchen. Regardless of your kitchen's layout or size, our made-to-measure approach guarantees a perfect fit and a seamless look that enhances the overall aesthetic of your space.
Is a glass splashback heat resistant?
Absolutely! Our glass splashbacks are crafted from toughened glass, which is specifically designed to withstand high temperatures. This makes them ideal for use behind cooktops where they may be exposed to heat from cooking.
They can resist heat up to several hundred degrees Celsius without warping or discolouring, maintaining their aesthetic appeal and functional integrity even after prolonged use.
How much maintenance do the kitchen splashbacks require?
Our glass splashbacks require minimal upkeep. Regular cleaning with a mild glass cleaner will maintain their shine and clarity. Their non-porous nature makes them resistant to staining and odours, making your cleaning task a breeze and ensuring your kitchen stays looking its best.
How long does the installation process take?
The installation duration depends on the splashback's size and complexity. We pride ourselves on our efficient and quality work, and we tailor our time frame to each project. Rest assured; our team works diligently to ensure a seamless installation process that brings minimal disruption to your daily routine.